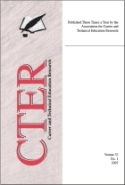 Career and Technical Education Research (CTER) publishes refereed articles that examine research and research-related topics in vocational/career and technical education, career development, human resource development, career issues in the schools (Grades K-12), postsecondary education, adult and lifelong learning, and workforce education. The CTER Editorial Board is committed to publishing scholarly work that represents a variety of conceptual and methodological bases.
Submission of manuscripts representing one of the following styles is encouraged:
empirically-based manuscripts that report results of original research, either quantitative or qualitative,
reviews or synthesis of empirical or theoretical literature,
essays derived from original historical or philosophical research,
reviews of recently published books, and
rejoinders to articles recently published in CTER.
CTER will consider for publication papers initially presented at conferences, including those disseminated through conference proceedings. Page costs are not typically assessed. However, if a manuscript is accepted, authors will be asked to either supply camera-ready tables and figures, or pay for the costs incurred in preparing complex tables and figures for publication.
CTER is included in regular and student membership dues of the Association for Career and Technical Education Research (ACTER). Journal subscriptions are $65 per calendar year for both U.S. and international subscribers and nonmembers. Individual articles are available for purchase. Subscription orders should be addressed to .